you are there. At least, I think so.
That's not quite the famous enthymem of the Cartesian philosophy cogito ergo sum.
Well, that's one of the reasons of the naming of this site: not a single footnote to plato.
Allora, for starters:

I THINK SO YOU ARE THERE

And I'm here.
In this beautiful part of Italy on the border between Tuscany and Umbria.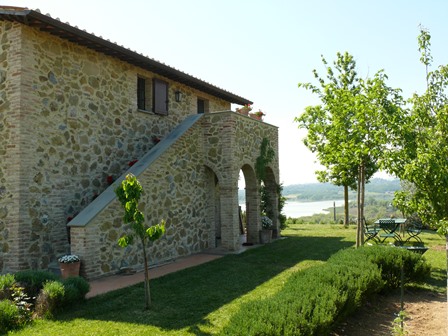 PODERO VENTOSO

in gewoon NL ... waar deze site voor bedoeld is?
Om denkprojectjes met/voor vrienden zichtbaar te maken
En ...
capriccio Italiano
- better the plural
capricci italiani
(waaronder muziek)
You can also stay for a while on this site and think about it.
Or think about thinking.
NB
this page is a hodgepodge of English and Dutch text; actually, there are english pages -
here's the index
on PHILOSOPHY - RIGHT and WRONG - MUSIC
all the good things in life
and how to cope with it at one's leisure

over FILOSOFIE - MORAAL - MUZIEK
al het goede in het leven
en hoe daarmee op vakantie te gaan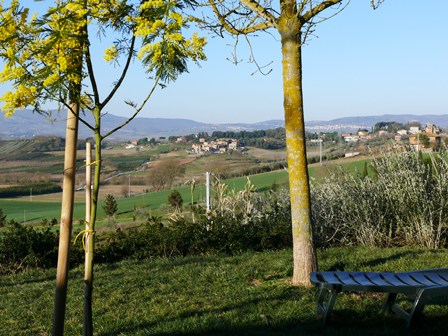 GIARDINO WITH A VIEW
No better vehicle to make you feeling you are really here than a picture: a garden with this view!
Deze website is wel en niet onderweg
- onderweg in de zin van: nooit af
- af in de zin van: onderweg goed te gebruiken maar altijd open voor verandering
genoeg van hetzelfde
is het motto van de site
altijd wat anders
wel barmhartig, niet al te standvastig
vandaar de naam
NOT A SINGLE FOOTNOTE TO PLATO
Iets of iemand kan tijdelijk ruimte innemen.
Zo nu en dan vermaak ik mij wel eens met de vraag:
Kan iets ruimtelijk tijd innemen?
Wel, hier, in deze ruimte verzonken, tussen de laatste bergketen van Toscana en de eerste heuvelrug van Umbria, kun je die tijd even vergeten. Gewoon gaan zitten, de wijdsheid ervaren, en zelf verzonken raken in ruimte en tijd.
Waren het niet de kathedralenbouwers die in de ruimte de tijd vereeuwigden? Ah, de tijd verdrijven!
Zoals een Italiaanse wijsheid zegt:
l´amor fa passar il tempo, il tempo fa passar l´amor
.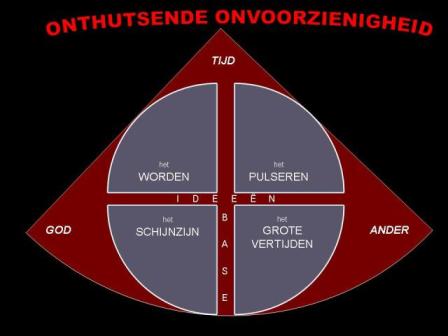 Yeah yeah, this site is also about philosophy - more exactly about what philosophy in my opinion should be: anarchistic thinking. Well, more precisely: thinking in an anarchistic way.
Yes, that's it:
to enjoy this site you need to put your mind in the anarchistic modus.
the question is
leisuring philosophy
or
philosophizing leisure
Aha, equalling leisuring philosophy and philosophizing leisure with an Italian saying:
love does pass the time, time will pass love
Yes, some manifestation of the big detiming.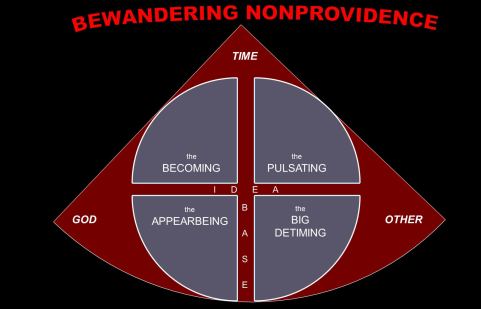 met dank aan heer Robert Szepansky, groot kenner van Olivier B. wiens commentaar, een enkele keer Cantecleer-achtig bijtend, meestal goedmoedig Bommelbrommerig, deze jonge vriend tot zulke merkwaardige gedachtekronkels heeft gevoerd.
met dank aan G.J. Smeets, met wie ik via de NRC bij
Opinie en Debat
zulke vrolijke, en ook wel serieuze discussies heb mogen voeren. Mocht hij mij hier vinden, én opzoeken, dan zal ik zeker met hem hier op een bankje gaan zitten.
thanks to Susan Buckley and Paul Nicklin, who read my English texts, which frustratingly appears to be necessary. Always. Senza se e senza ma.
Leen Karman